I will show you how you can browse free on MTN using Tunnelguru vpn software on PC, this is super fast and very stable on computer.
I have been using this for few weeks now but i didnt share because it was not very stable as i have to apply an additional trick to make it stable which not everybody will get.
Good new is, today 27th of October, 2013 TunnelGuru VPn version 2.5.0.0 was released and i must confess it is super fast, stable and downloads.
Note this trick doesnt require any subscription as i works on an MTN SIM with 0 kobo and the goodnews is you can use your tunnelguru account on your android too with Troid vpn on android since they are from the same author, read here how to browse free on android with troidvpn
How To Browse Free On MTN using TunnelGuru
1. Download TunnelGuru VPN software here for 32bit computer and here for 64bit computer.
2. Goto http://tunnelguru.com and register and account to get a username and password
3. open the Tunnelguru VPN software on your computer (note you must have java runtime installed on your computer, download here)
4. Configure as below, insert your username and password then set RPort to 5222 and LPort to 1110, select ANY server with TCP or [All] and goto protocol and choose TCP, leave every other things unticked, dont mind the picture below where the tunnel DNS Query was ticked, just leave your unticked.
[wpsm_ads1]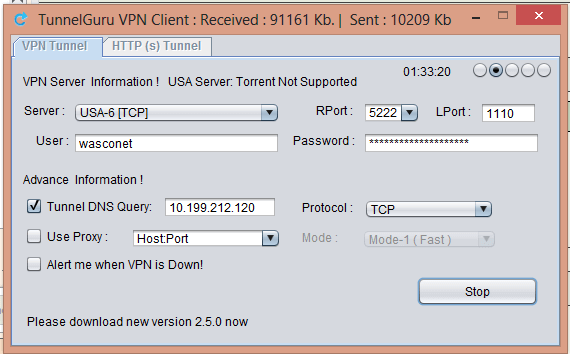 5. Now connect your modem with MTN default apn (web.gprs.mtnnigeria.net)
6. Now click on start on the Tunnelguru VPN and wait for it to connect, if it shows any error just stop it and start again.
7. Now you are done! happy browsing and downloading unlimitedly
[alert type="green"]Note that is a free account and will not be fast like the premium i am using and also you might not be able to download torrent files, if you need TunnelGuru voucher for unlimited premium account for a month just send me a mail [email protected][/alert]